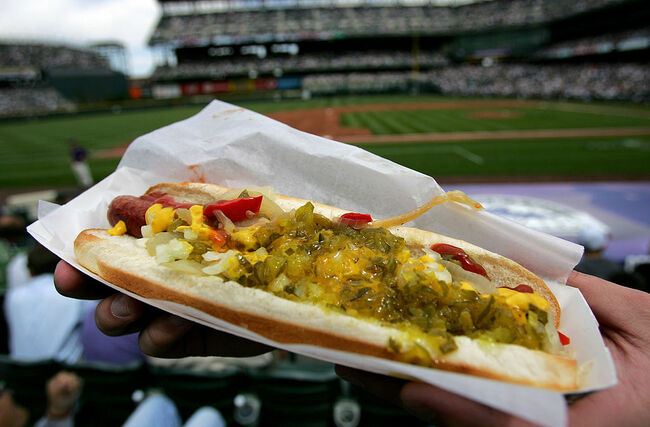 Wednesday, July 19th is National Hot Dog Day as delegated by the National Hot Dog and Sausage Council.
Looking for a great dog in San Antonio- Here is a handy guide of where to grab lunch or dinner to celebrate.
1. Alamo Hot Dog Company - N. Presa and W. Crockett Street
An actual Hot Dog Stand downtown at N. Presa and W. Crockett Street. (across from the Hard Rock) hypes a 100% Kosher Beef bacon wrapped hot dog.
2. Fattboy Burgers and Dogs - 2345 Vance Jackson Rd.
Known for the burgers, Fattboys also gets high reviews for the Hot Dogs
3. Frank - 1150 S. Alamo
Daily Dogs include a Chicago Dog and a Chili Cheese Dog and you can make it epic by adding a fried eggg or bacon. Frank also offers Vegan dogs.
4. Original San Antonio Hot Dog House -1218 W. Bitters
Choose from over 20 dogs on the menu or create your own. The house made chips are on point as well.
5. Pugel's - 3502 N. Saint Mary's
Voted Best Hot Dog in SA the last four years. Pugel's features the Original San Antonio Hot Dog house menu.
6 .The Shack - 6392 Babcock Rd.
You may not be looking for The Shack in the same building of a Chevron, but that is where you can find. Great reviews on Hot Dogs and Burgers. They also serve Funnel Cakes and shaved ice.
7. Wicked Dog Food Truck
If you see the Wicked Dog truck it is worth a stop to get your fix. Wicked Dog serves Nathan's Brand Hot Dogs and offers a variety of choices.
8. Wiseguys- 441 W. Nakoma
One of the few spots in San Antonio where you can grab a Chicago Dog made with 100% Vienna Beef Hot Dogs
9. Wrigleyville - 602 NW Loop 410 Suite 146
Wrigleyville also uses 100% Vienna Beef Hot Dogs and serves them on a poppy seed bun. if you are brave you can grab the Chicago Fire Hot Dog. A typical Chicago style Dog with Ghost Pepper sauce.
Think you know the rules of eating a hot dog? Check out this video on Hot Dog Etiquette