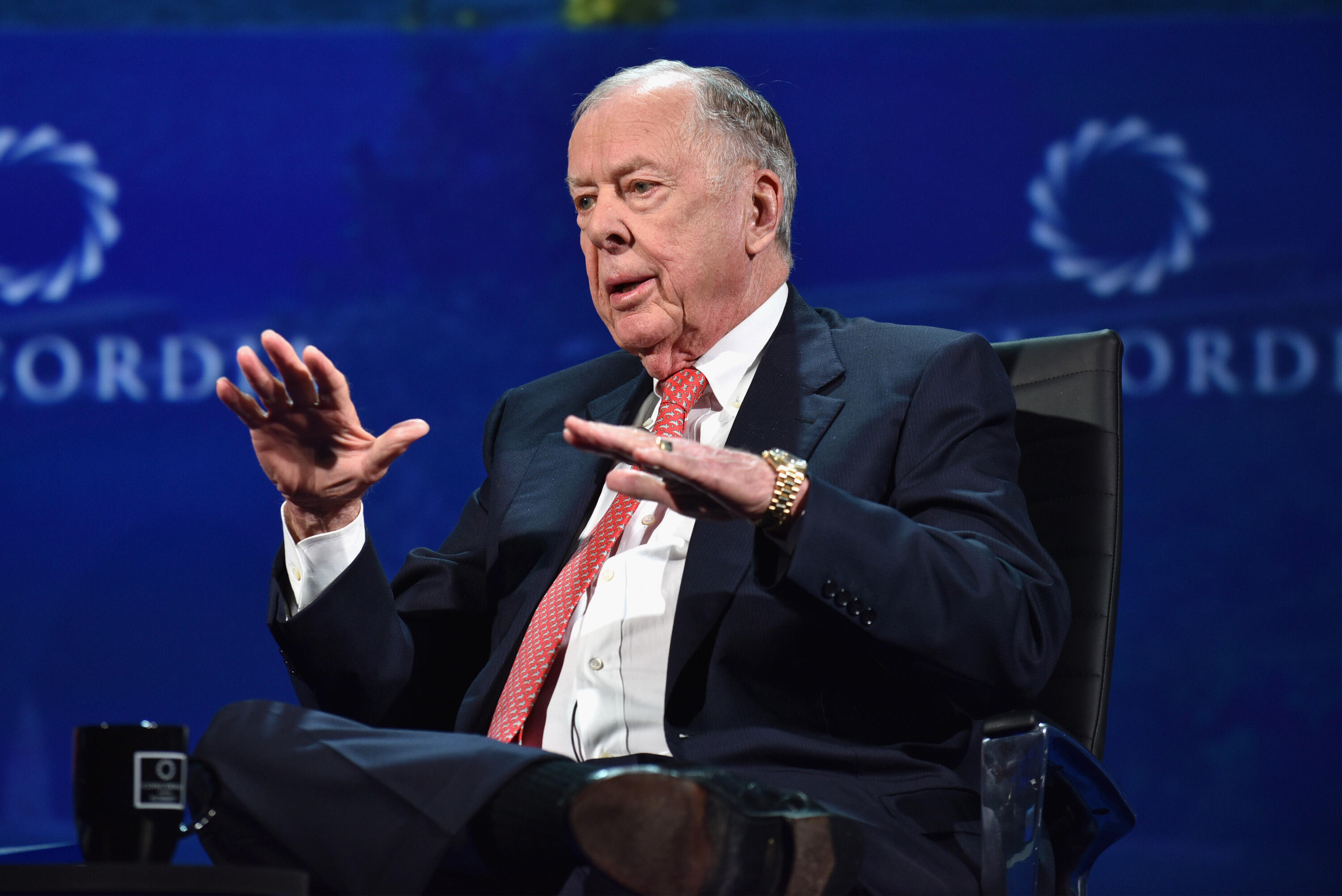 T. Boone Pickens, the larger than life oil and gas tycoon whose autobiography is titled 'The First Billion is the Hardest,' has died at his home in Dallas at the age of 91.
Pickens was a native of Holdenville, Oklahoma and an alumni of Oklahoma State University, which he showered with cash and gifts throughout his life. But it was in the oil fields of west Texas that Pickens gained his fame and, some would say, his infamy.
Pickens became a household name in the 1980s as one of the first 'corporate raiders,' who would buy up stock in companies and swoop and and buy them up. His company, Mesa Petroleum, was known for its aggressive posture toward other firms, and it made Pickens feared in board rooms across the country, and it also made him one of the richest men in America. In one year, 2007, Pickens personally made $2.7 billion.
Among the highest profile targets of his takeovers included Gulf Oil, Cities Service, Phillips Petroleum, and Unical. The phrase 'T. Boone Pickens is on the phone' became a catch phrase around corporate offices.
Pickens was also active in Republican politics in the 1980's, funding the 'Swift Boat for Truth' campaign which alleged that John Kerry exaggerated his service in Vietnam, ads which many analysts said crippled Kerry's campaign against George W. Bush in 2004.
Over his life, Pickens donated more than $1 billion to charities, about half of that money going to Oklahoma State University, where the football stadium and several other buildings are named for Pickens. An animal lover, Pickens chartered airplanes to rescue dogs that were stranded in the flood waters from Hurricane Katrina in Louisiana in 2005. He also supported the University of Texas M.D. Anderson Cancer Center, the University of Texas at Dallas Brain Health Center, and the University of Texas Southwestern Medical Center.
Pickens was named 'Texan of the Year' by the Texas Legislative Caucus at its annual event in New Braunfels in 2007.
In addition to his oil and gas interests, Pickens was also an early supporter of alternative energy, building wind farms in Texas and Oklahoma, and, in his Pickens Plan, proposed a large scale disengagement by the U.S. from foreign energy.
Pickens was married five times, and leaves behind four biological children and one adopted daughter.
Pickens is the third of the legendary Texas entrepreneurs from the golden age of American business to die in 2019. He is preceded in death by Southwest Airlines founder Herb Kelleher, and by computer company founder and former Presidential candidate H. Ross Perot.
Photo: Getty Images